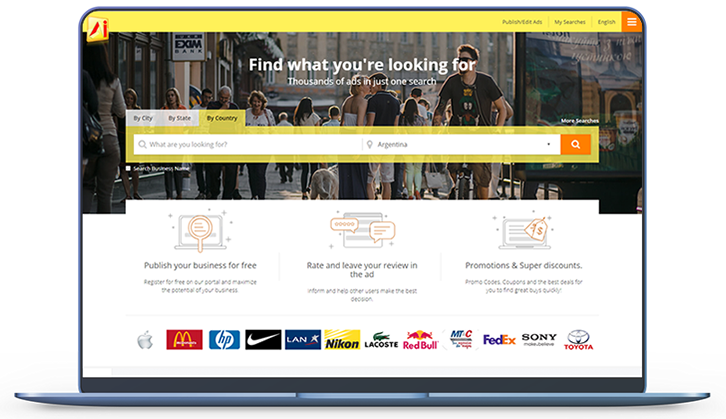 Since 2007 the first worldwide Yellow Pages with exclusive Internet orientation.
GDC YellowPages, a unique, sophisticated and intuitive business platform at your fingertips.
We connect a worldwide audience with local advertisers, this is our real business that we implement with you, city by city.
Yellow Pages by GDC Business Units
AIYellow.com Portal
Global Market
Yellow Pages by GDC
Market by segment
Specific Market
AIYellow.com Portal
Global Market
Aiyellow.com is the global online advertising platform where all kinds of companies or independent professionals can promote, through the internet, any product or service, providing the necessary tools to attract and retain customers.
Yellow Pages by GDC
Market by segment
The YellowPages by GDC directories are designed for each of the most hierarchical markets and the specific markets where professionals and suppliers can disclose their products and services to clients seeking a specific client or to companies within the same sector that they look for better offers, becoming specialized platforms not only for the B2C Business to Customer concept, but also generating the B2B, Business 2 Business.
Specific Market
Our specialized directories offer to the consumers the fastest way to find what they need in a specific market and advertisers the opportunity to obtain more effective results in attracting new customers by offering a clear market for their marketing.
Why does GDC Yellow Pages really work?
A proven concept
The Yellow Pages, a concept already proven in the market, driven by the most powerful form of communication: Internet.
Search technology
Our Marketing VPs are permanently by your side, providing answers and advice free of charge.
Yellow Office
Your customers will have access to their own virtual office, where they can create, edit and control their ads.
National reach/local information
Our search results are national in scope, but show local advertisements, which allows you to reach an audience with specific geographic targeting.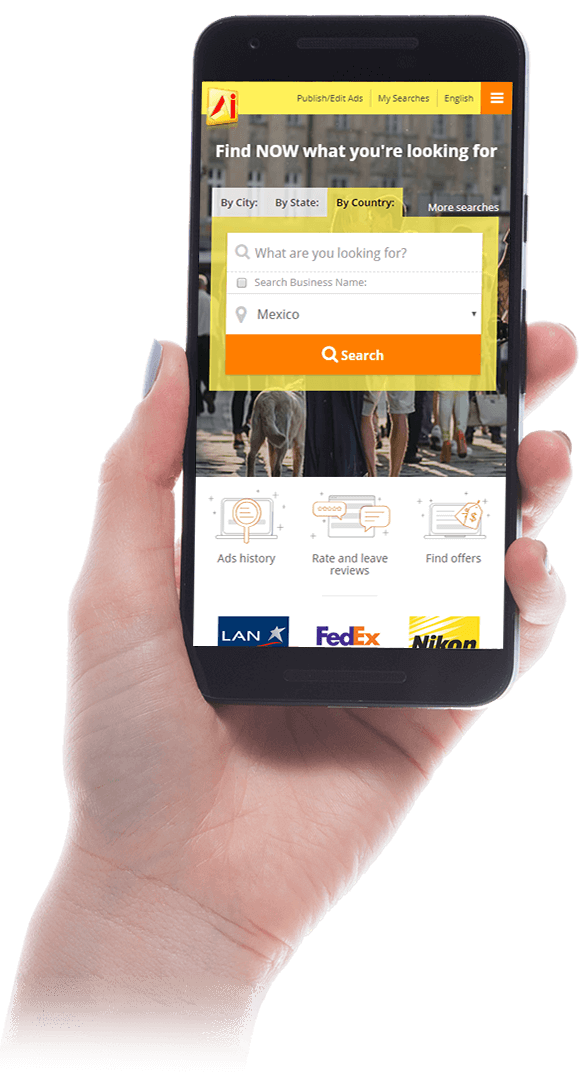 Online Positioning
Our advertisements are optimized to be indexed by the main search engines.
Sophisticated products with multiple tools
Our ad packages include premium products such as Amawebs and our Ubiz app.
Integrated Tools
In addition to our ad packages, we offer a full range of online tools to develop a comprehensive and effective marketing strategy.
Own technology
From the beginning, we have our own design and programming team with high levels of requirements, competitive with the current market.
+91 Millons
Average visits per year
607,127
Advertisers on 5 continents.
6,560
Locations with advertisers.
16
Years of experience in the market.
Why should you join GDC Yellow Pages?
More than a million brands in the world trust us with their online presence.
Community spirit
We continuously get feedback from contact with our Directors around the world, understanding their needs enabling us to generate new and better solutions.
Experience
With more than 12 years in the market, we are aware of the various public sections, their behaviour online, their needs and search patterns.
We value diversity
Our platform adapts to more than 15 languages in order, to be operated correctly throughout the world and, to display the ads effectively.
Reliability
The confidence and the respect of our community endorses us. Every aspect of the business is taken seriously and responsibly.
More than a company, a community
We are a great international community consisting mainly of people who are venturing on more and work with a common goal: to excel.
All AiYellow business units and their respective areas operate synergistically. Our advertisers, advertising agents and the corporate team contribute ideas, knowledge and experience, allowing us to learn continuously and, work together to attain our full potential.
B2B and B2C Community
The first and largest community B2B - Business to Business - and B2C - Business to Consumer - under the concept of the Internet yellow pages.


Business communities like ours, have exponential growth, by providing its members unlimited possibilities for expansion, growth and learning.
Innovation is in our DNA
Beginning, present and future
BEGINNING
An idea is born
January, 2007
We were facing a paradigm shift. The magic of the Internet was changing the way we communicated and did business. We understood that printed directories would lose usefulness. From this new perspective, an idea was born. We decided to gamble on the evolution of the concept of Internet Yellow.


AmarillasInternet - AiYellow.com is born: we combine the power of direct selling to the potential of online advertising, creating the first company to address the advertising market under the concept of "internet yellow pages".
Users began to contact advertisers to formalize business through a virtual channel. The idea worked, we were spearheading innovation in the virtual business world.
AiYellow and the Chamber of Commerce - .
DEVELOPMENT
Global expansion
10th September, 2009
We began to introduce the concept in international events: Rio de Janeiro, Miami, Bogotá, Quito, Lima, Buenos Aires and Santiago de Chile.
June 5, 2010. The idea gained strength and we held the first events in Europe: Lisbon, Madrid and Rome. In the same year, 25 events were held locally.
The technological improvement and the development of the tools available in the ads were our strength. Online businesses exploded globally, and more and more advertisers joined our portal.
2011 to 2015. The expansion continued and the participants multiplied. That's how we launched into Africa and Asia, with events in Johannesburg, Capetown and Bangkok.
During these years, we consolidated as the number one Internet Yellow Pages directory, creating a wide range of products and services that were rapidly absorbed by advertisers eager to seize every opportunity in the new world of online business.
PRESENT
The business community
2016 to 2020
Almost naturally, AiYellow transformed into a business community, where millions of independent entrepreneurs around the world came together with one goal: to use the increasingly sophisticated and intuitive business platform that gave them AiYellow.
With an active community made up of users, advertisers and licensees from all over the world, we achieved our great goal: to generate income opportunities to thousands of families who through constant training have created a new profession, a arge community of entrepreneurs who serve their clients with dedication and dedication. The secret of their success was to grow through new commercial references that they received from well-served customers. A simple, real and powerful concept.
In 2019 we joined Global Digital Cooperative (GDC), a cooperative that created a whole business system based on common welfare. We become GDC Yellow Pages and join the City Director Program (CDP), the innovative concept created by GDC that uses a successful business model and adapts it to your needs to continue supporting thousands of entrepreneurs around the world.
THE FUTURE
The expansion of the cooperative
2020 onwards
Supported by the business community, we set a new objective: to build an inclusive economy, promote equality and encourage progress through GDC.
Although we were born as a B2C (Business to Consumer) community, we have expanded and evolved to the first B2B (Business to Business) community with its own token of exchange in Yellow Pages. Then to a robust ecosystem with multiple business units and extraordinary benefits for all members of GDC, by following the co-operative values and principles.
Pioneers again, with our currency and with the possibility of acquiring enormous riches along the way, we continue to work together trusting on cutting-edge technology and continual innovation.
Our presence in the world
Every day new members are added from all over the world as City Directors of the City Director Program.
Meet the members by clicking on the yellow locator that appears in the geographic location that is of interest to you.
Last Registered Directors
Indira Guerrero
Barinas, Venezuela
AiYellow
Cristina Ferreira
Curvelo, Brazil
AiYellow
Claudia Patricia Lozano Medina
Soacha, Colombia
MarketCoop
German Mejia
Palmira, Colombia
Amawebs
Jose Costa
Cascais, Portugal
GDC UbiZ
Mayerly Cabrera Giron
Ibagué, Colombia
Amawebs
Cristina Murteira Murteira
Santarém, Portugal
GDC UbiZ
Carlos Valera
Valencia, Venezuela
Amawebs
JAHIR PERDOMO SAENZ
Ciudad de Colón, Panama
Amawebs
RAMON HUNBERTO MARTINEZ
Boquerón, Colombia
MarketCoop
Trifecta trading186
Bloemfontein, South Africa
AiYellow
Aniuska Pérez Rodríguez
La Habana, Cuba
AiYellow
Augusto Gerardo Vega González
Fernando de la Mora, Paraguay
AiYellow
Gustavo Rodríguez
Santiago de Chile, Chile
AiYellow
David Espinosa Ovalle
Pitalito, Colombia
AiYellow
Rodrigo Naranjo Marulanda
Envigado, Colombia
Amawebs
Carlos Alberto Gallo Restrepo
Soledad, Colombia
AiYellow
ROCIO SANCHEZ
Valledupar, Colombia
Amawebs
Parvinder Singh
Patran, India
AiYellow
Harmesh Ram
Patran, India
MarketCoop