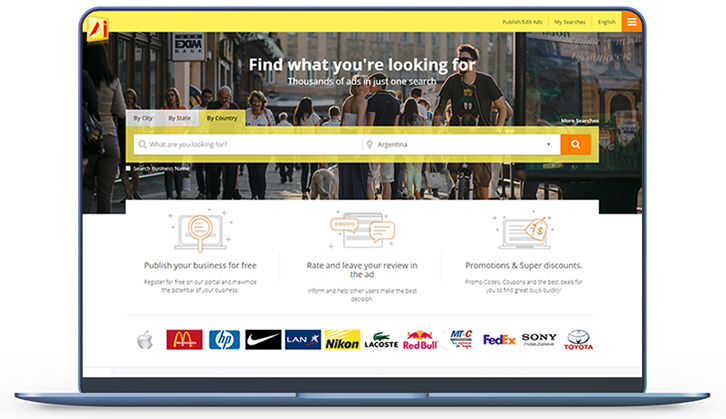 More than a company, a global community.
The first and largest B2B and B2C community under the concept of the internet yellow pages.
Your customers will receive a free version of the product with basic features and will have the opportunity to request a paid upgrade to receive 100% of the features.
Why does our platform really work?
High online visibility
Our portal is ranked among the most visited websites worldwide.
Personalized support.
Our agents guide you, continuously providing solutions and advice free of charge
Yellow Office
We give you access to your own "virtual office" where you can create, edit and manage your ads.
National reach/local information
Our search results are national in scope, but show local advertisements, which allows you to reach an audience with specific geographic targeting.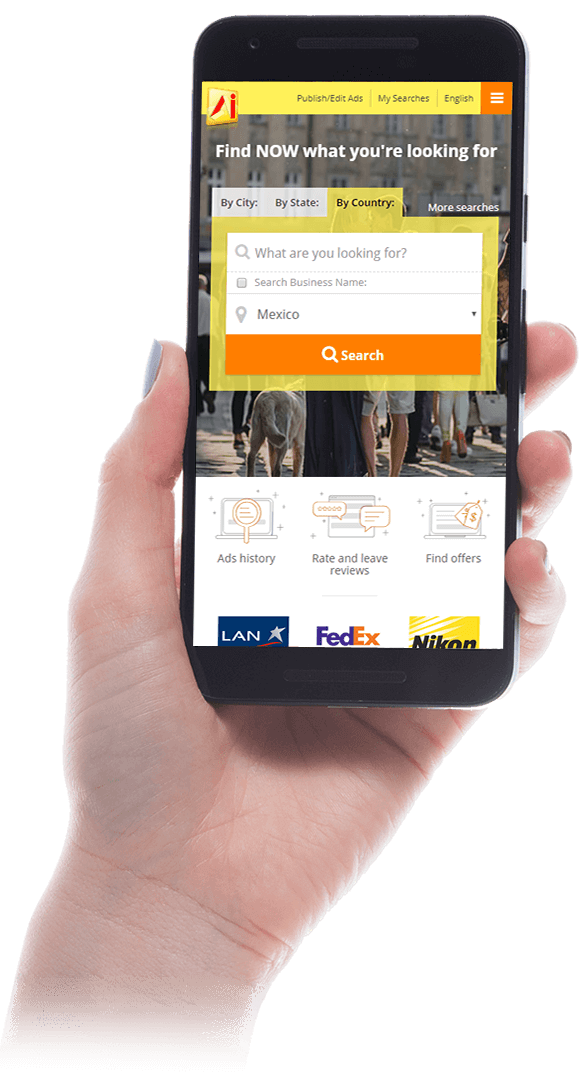 Online Positioning
Our advertisements are optimized to be indexed by the main search engines.
Plus Products
Our ad packages include premium products such as Amawebs and our Ubiz app.
Integrated Tools
In addition to our ad packages, we offer a full range of online tools to develop a comprehensive and effective marketing strategy.
Our Agents
We have more than 7000 agents worldwide, who receive ongoing training and are at your disposal while your advertisement is online.
+91 Millones
Average visits per year
599,608
Advertisers on 5 continents.
6,259
Locations with advertisers.
13
Years of experience in the market.
Why should you join our community of advertisers?
More than a million brands in the world trust us with their online presence.
Community spirit
We continuously get feedback from contact with our advertisers around the world, understanding their needs enabling us to generate new and better solutions.
Experience
With more than 12 years in the market, we are aware of the various public sections, their behaviour online, their needs and search patterns.
We value diversity
Our platform adapts to more than 15 languages in order, to be operated correctly throughout the world and, to display the ads effectively.
Reliability
The confidence and the respect of our community endorses us.
More than a company, a community
We are a great international community consisting mainly of people who are venturing on more and work with a common goal: to excel.
All AiYellow business units and their respective areas operate synergistically. Our advertisers, advertising agents and the corporate team contribute ideas, knowledge and experience, allowing us to learn continuously and, work together to attain our full potential.
B2B and B2C Community
The first and largest community B2B - Business to Business - and B2C - Business to Consumer - under the concept of the Internet yellow pages.


Business communities like ours, have exponential growth, by providing its members unlimited possibilities for expansion, growth and learning.
Innovation is in our DNA
Beginning, present and future
BEGINNING
An idea is born
January, 2007
We were facing a paradigm shift. The magic of the Internet was changing the way we communicated and did business. We understood that printed directories would lose usefulness. From this new perspective, an idea was born. We decided to gamble on the evolution of the concept of Internet Yellow.


AmarillasInternet - AiYellow.com is born: we combine the power of direct selling to the potential of online advertising, creating the first company to address the advertising market under the concept of "internet yellow pages".
Users began to contact advertisers to formalize business through a virtual channel. The idea worked, we were spearheading innovation in the virtual business world.
AiYellow and the Chamber of Commerce - See more
DEVELOPMENT
Global expansion
10th September, 2009
We began to introduce the concept in international events: Rio de Janeiro, Miami, Bogotá, Quito, Lima, Buenos Aires and Santiago de Chile.
June 5, 2010. The idea gained strength and we held the first events in Europe: Lisbon, Madrid and Rome. In the same year, 25 events were held locally.
The technological improvement and the development of the tools available in the ads were our strength. Online businesses exploded globally, and more and more advertisers joined our portal.
2011 to 2015. The expansion continued and the participants multiplied. That's how we launched into Africa and Asia, with events in Johannesburg, Capetown and Bangkok.
During these years, we consolidated as the number one Internet Yellow Pages directory, creating a wide range of products and services that were rapidly absorbed by advertisers eager to seize every opportunity in the new world of online business.
PRESENT
The business community
2016 to 2018
Almost naturally, AiYellow transformed into a business community, where millions of independent entrepreneurs around the world came together with one goal: to use the increasingly sophisticated and intuitive business platform that gave them AiYellow.
With an active community made up of users, advertisers and licensees from all over the world, we achieved our great goal: to generate income opportunities to thousands of families who through constant training have created a new profession: CAA - Certified Advertising Agents.
Our Advertising Agents are a large community of entrepreneurs who serve their clients with dedication and care. The secret to their success is to grow through new business referrals they receive from well-served customers. A simple, real and powerful concept.
THE FUTURE
The Co-operative
2018 a 2023
Supported by the business community, we set ourselves a new objective: to multiply our Advertiser, Director and Agent base.
Although we were born as a B2C (Business to Consumer) community, we have expanded and evolved to the first B2B (Business to Business) community with its own token of exchange in Yellow Pages. Then to a robust ecosystem with multiple business units and extraordinary benefits for all members of GDC, by following the co-operative values and principles.
Pioneers again, with our currency and with the possibility of acquiring enormous riches along the way, we continue to work together trusting on cutting-edge technology and continual innovation.
Our presence in the world
Every day new members are added from all over the world as City Directors of the City Director Program.
Meet the members by clicking on the yellow locator that appears in the geographic location that is of interest to you.
Last Registered Directors
Luís Abreu
Portimão, Portugal
GDC Yellow Pages
José Baptista
Mirandela, Portugal
GDC Yellow Pages
Perla Picciotti
Badalona, Spain
GDC Marketplace
Leoncio Lopez
Barcelona, Spain
GDC Exchange
Jorge Franco Gutiérrez
Oaxaca de Juárez, Mexico
GDC Yellow Pages
Maria José Ribeiro
Porto, Portugal
GDC Exchange
Humberto Sousa
Viseu, Portugal
GDC UbiZ
Chanya Puthong
คลองหลวง, Thailand
GDC Yellow Pages
Daniel Matheus
Chiriquí, Panama
GDC Yellow Pages
Anibal Alves
Vila Nova de Gaia, Portugal
GDC Yellow Pages
Rui Torres
Paredes, Portugal
GDC UbiZ
Ascencion Garrido
Puebla de Zaragoza, Mexico
GDC Yellow Pages
Gabriel António Machado Pinto Da Pinha
Agualva, Portugal
GDC Exchange
Esmeralda Marizol Alvarez
Pasto, Colombia
GDC Exchange
Norberto Artemio Felipe Montiel Flores
Los Mochis, Mexico
GDC Yellow Pages
Lanora Carol Rodgers
Benoni, South Africa
GDC Yellow Pages
Júlia Frantz Predabon
Porto Alegre, Brazil
GDC UbiZ
Luz Dary Ospina López
Envigado, Colombia
GDC Marketplace
Vicente De Paul Benites Fuentes
Durán, Ecuador
GDC Yellow Pages
Alexander Aragon G
Santiago de Cali, Colombia
GDC Web Builder