City Director Program
We are the creators of a new concept.
This business model around the world represent
$2,000,000,000,000
(Billions of dollars)
Which is equivalent to the 4th largest economy in the world.
Thousands of companies use this business model in more than 1.5 million cities around the world.
Global Digital Cooperative (GDC) is the creator of an innovative concept that is revolutionizing the cooperative world and takes full advantage of a successful business model, applied to City Directories.
The City Director Program is an established business system that offers a range of opportunities for entrepreneurs with dreams of growth by providing a new community program, looking for a more just and equitable world.
Development and implementation of the City Director Program
GDC's technology development lab selects a product and then develops, presents, and implements it as a new business division.
Using the City Director Program model, our VP Marketing selects candidates by granting exclusivity of a city.
The new applicant becomes a City Director and is, introduced to the GDC Community.
Business model
The City Director Program (CDP) is presented to entrepreneurs and business people from around the world who wish to develop commercial activities. This model has unique features, including:
City Directors are personally appointed by a Vice President of Marketing.

Contracts awarded are valid for 15 years and can be terminated without penalty.

A single Director is awarded per city in each business unit.

The members that are awarded a city are called City Directors and are presented on the official GDC website.

Each City Director has a complete customized workflow system at their disposal.

1,000% return on all products.
Contract for 15 years
Director by city and unit
Loren ipsum
Official presentation in GDC
Smart Office included
1,000% profit
No initial investment
Support system
Product exclusivity
No physical space required
Automatic Marketing
Affordable maintenance fee
Program for entrepreneurs
CDP is a program designed especially for new entrepreneurs. It offers unique possibilities to develop a business exclusively in a city or several cities, with a business model already proven in the market: the Freemium system, used today by the largest companies in the world.
This program maximizes the growth possibilities of new entrepreneurs who become City Directors of our business units, thanks to benefits such as the following:
It does not require any kind of initial investment.

It does not require a physical space for the development of the business.

You have a monthly maintenance fee of only $29.

Receives exclusivity in the marketing of the products of the different business units of the company.

It is practically an automated sales system. Once free ads are registered, the email marketing system will make customers aware of the advantages offered by Premium products and encourage them to upgrade.

It has a support system with tools such as email marketing, telemarketing, strategic advisors that offer training in sales strategies, live and online training, workshops, among others.
Why apply for the City Director Program?
Here are some of the benefits you receive with any of our City Director Programs.
NO INTERMEDIARIES
You receive the City Director Program directly from GDC, the creators of the concept.
CITY EXCLUSIVITY
City Director Programs are exclusive and are awarded to only one candidate per city in each business division.


STAFF MEMBER GDC
As a City Director, you become part of the GDC Corporate Staff.
1,000% MARKUP
1,000% profitability on all products, City Director Program breaking records!
NO INITIAL PAYMENT OR ROYALTIES
The "City Director" areas are granted, not sold. Nor do we charge commissions or royalties on your sales
CUSTOM CONTRACTS
Contracts are valid for 15 years, with no penalty for early termination.
MINIMUM MAINTENANCE
The extraordinary benefits of the systems are, divided amongst all the Directors, even transferring amounts of less than 1 dollar per day.
QUALITY PRODUCTS
We offer state-of-the-art and exclusive technology products that are recognised globally.
INTERNATIONAL PRESTIGE
We have more than 100 years of combined experience in the tech Industry.
PROVEN BUSINESS SYSTEM
We use the most powerful sales system, the Freemium model. The clients register free and can then request an upgrade.
UNIQUE AND POWERFUL FEATURES
You have high tech tools at your disposal to help you improve your business continually.
SMART ONLINE OFFICE
With exclusive access, you receive a fully programmed smart office designed to assist you in accomplishing your work efficiently.
FREE
PREMIUM(with steroids)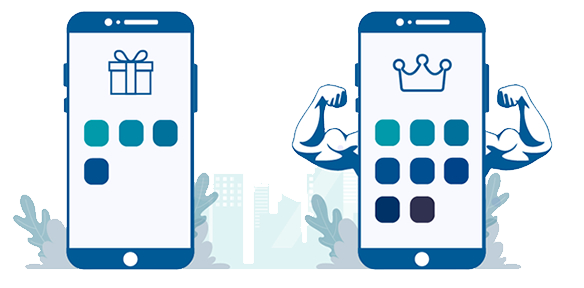 By upgrading from Free to Premium, will enable the City Director to activate new tools and services for their customers.
We use the successful Freemium model
Offer your customers a fully functional and free service.
Your customers will receive a free version of the product with basic features and will have the opportunity to request a paid upgrade to obtain 100% of the features.
One of the main factors that determine the commercial success achieved by City Directors is the strategy used to address the local market.
The objective is to incorporate the most significant number of customers for free through the Freemium model. Then stimulate, via email, their interest in obtaining an upgrade to products with more exceptional performance.
Building a local market
The construction of the local market has always been the strongest point of our business units. That is why we have developed the City Directors model to develop the local market, exploring its full potential.
The sum of local actions positions us strongly at an international level.
Locally purchased commercial products based on mobile and web app platforms is a fundamental factor in the City Directors model, a feature that differentiates us.
Consumers
Merchants
Advertising Agents
City Director Program
Marketing VP

Software development
Global Synergy
The City Director Program operates under the same philosophy as in the Cooperative: all members work for the same goal, which is the massive and global success of the brand.
For this reason, we develop our activities in synergy with all City Directors, who provide suggestions, successful experiences, ideas and new strategies on a constant basis.
This synergy is supported by our Strategic Advisors, who organize weekly webinars; a forum where the community places their questions and answers; GDC's official social media and a whole set of tools that connect City Directors with the same common goal: the success and expansion of our program.
Referral program
The referral program is an incentive system for City Director Program members, who receive special promotions for recommending new CEOs or City directors, from any division or business unit, in any city of the world.
The current City Directors can provide the greatest feedback on how a successful business is, achieved and broadcast it to other entrepreneurs who may also become City Directors, contributing to the expansion of Global Digital Cooperative (GDC).
The intention is to expand the concept of CDP through the people who are already involved in this process by developing its business model. These people already have knowledge, experiences and become real testimonies of the success of the program.
When referring to new City Directors, those who participate in this program receive compensation that is usually gifted in products for marketing, through special promotions, including 2x1 or 3x1, depending on the number of Referrals.
The CDP referral program represents the true cooperative spirit: the directors benefit, individually, and also GDC, as a whole.
Our global presence


Every day new members are added from all over the world as City Directors of the City Director Program.
Meet the members by clicking on the yellow locator that appears in the geographic location that is of interest to you.
Luís Abreu
Portimão, Portugal
GDC Yellow Pages
José Baptista
Mirandela, Portugal
GDC Yellow Pages
Perla Picciotti
Badalona, Spain
GDC Marketplace
Leoncio Lopez
Barcelona, Spain
GDC Exchange
Jorge Franco Gutiérrez
Oaxaca de Juárez, Mexico
GDC Yellow Pages
Maria José Ribeiro
Porto, Portugal
GDC Exchange
Humberto Sousa
Viseu, Portugal
GDC UbiZ
Chanya Puthong
คลองหลวง, Thailand
GDC Yellow Pages
Daniel Matheus
Chiriquí, Panama
GDC Yellow Pages
Anibal Alves
Vila Nova de Gaia, Portugal
GDC Yellow Pages
Rui Torres
Paredes, Portugal
GDC UbiZ
Ascencion Garrido
Puebla de Zaragoza, Mexico
GDC Yellow Pages
Gabriel António Machado Pinto Da Pinha
Agualva, Portugal
GDC Exchange
Esmeralda Marizol Alvarez
Pasto, Colombia
GDC Exchange
Norberto Artemio Felipe Montiel Flores
Los Mochis, Mexico
GDC Yellow Pages
Lanora Carol Rodgers
Benoni, South Africa
GDC Yellow Pages
Júlia Frantz Predabon
Porto Alegre, Brazil
GDC UbiZ
Luz Dary Ospina López
Envigado, Colombia
GDC Marketplace
Vicente De Paul Benites Fuentes
Durán, Ecuador
GDC Yellow Pages
Alexander Aragon G
Santiago de Cali, Colombia
GDC Web Builder