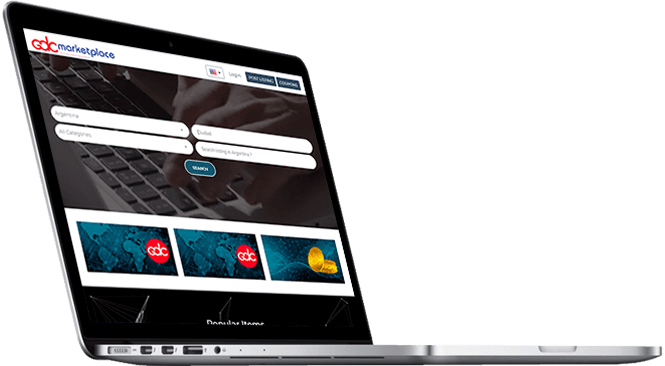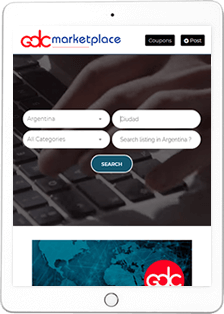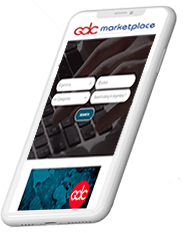 GDC Marketplace. The world's best Marketplace Online.

A complex business ecosystem that begins with more than 1,400,000 registered businesses in its business units, in almost 300 cities in 140 countries.
Why GDC Marketplace?
GDC Marketplace Online is the world's best place to buy and sell products and services on the Internet. Millions of members can sell their products, new or used, or offer services to a huge local or international community. Both individuals and businesses worldwide.
GDC Marketplace connects buyers and sellers and all transactions are done directly, securely and peer to peer, without intermediaries.
In all the Marketplace operations we use our YTC community exchange token, favouring transactions and revaluing money.
Benefits for Merchants
Opens a huge new Local City and International Market to sell your products
Merchants who sell their products on GDC Marketplace now have the advantage of offering special promotions by accepting full or partial payment in YTC for their products or services.
Global reach
Have your own Marketplace, international brand and global reach.
Subscriptions totally free.
Loren ipsum dolor sit amet consectectur
Publish new or used items.
Loren ipsum dolor sit amet consectectur
GDC backup
Loren ipsum dolor sit amet consectectur
100% YTC promotions
Promotion to know which new product is accepting 100 % of YTC.
Liquidation of Stock
Promotion to settle a stock of products about to expire.
Seasonal Promotion
Special out of season promotions.
Loren ipsum dolor
In addition, they can have advertising spaces distributed throughout the virtual store, with different formats and locations.
GDC Marketplace provides millions of new potential customers for the businesses in your city.
GDC Marketplace assigns Executive City Director promoters whose job is to create a Local Marketplace in each city, connecting city merchants with YTC token holders.
Assigned Executive City Directors benefit by earning a transaction fee from every buy or sell transaction made with YTC in their designated city. They also earn substantial profits from advertising sales.
Executive City Directors promote to all businesses and merchants in their City and invite them to register their business on the Marketplace. Businesses receive great exposure, and have the added benefit of accepting full or partial YTC tokens in exchange for their products.
Executive City Directors are granted an exclusive city or territory in GDC Marketplace at no cost other than an annual 300 USD website maintenance and virtual office fee.
To acquire an Executive Directorship in the GDC Marketplace, the Executive Director will pay a value of USD 300, valid for 1 year in his area for absolute exclusivity.
This new Business Unit will be available from March 1, 2020.
ConsumersBuyers
MerchantsSellers
About us
GDC offers a web service that provides the tools for communities to establish and manage exchange and commerce in their areas, combining conventional means of payment (credit cards, debit, transfers, among others) with others) with YTC lostTokens, through a large virtual store (e-commerce).
On our Marketplace, merchants will be able to publish their products at no cost, agreeing to receive part or all of the payment with YTC tokens.
Therefore, token holders will be tempted to exchange their YTCs on such purchase.
Latest registered advertisers
Centro Médico Splender Stetica Y Salud
sangolquí, ecuador
Dr. Rolando Paéz Ceballos
milagro, ecuador
Dra. Nelia Salcedo
zapopan, mexico
Centro Médico Splender Stetica Y Salud
quito, ecuador
Cromados De Sucre
sincelejo, colombia
Vivero Y Artesanias Cataluña
cali, colombia
Tmp Suppliers
bloemfontein, south africa
Distribuidora De Calzado "Melanie"
quito, ecuador
Centro De Refuerzo Pedagógico "Zarel"
quito, ecuador
Centro De Estudio Profesional "Técnico Del Valle"
sangolquí, ecuador
Villa San Geronimo
popayán, colombia
Barera Protectora De La Familia
bayamón, puerto rico
Dr. Mario Chiong Castillo
milagro, ecuador
Outsourcing Gráfico Sas
bogotá, colombia
Salsamentaria Quesera Flor De Trigo
santiago de cali, colombia
Remodelaciones Y Acabados Fm
bogotá, colombia
Automotríz Hnw
bogotá, colombia
Oportunidad De Empleo, Negocio Y Franquicia
bayamón, puerto rico
Decor Acabados
sangolquí, ecuador
Nuxgenhn
tegucigalpa, honduras
La evolución de GDC UbiZ App
Beginning, present and future
BEGINNING
Launching the application

September, 2015
Mobile telephony broke into the world market with unprecedented strength. In addition, in the commercial sphere, customer loyalty was the issue that most concerned entrepreneurs. So we began to work on the idea of linking loyalty to mobile telephony.
September 2014. We started working on the creation of UbiZ App, the loyalty tool via mobile telephony. To do this, we had a vision: nothing better than the technology of push notifications to retain Loyalty
At the end of the month, they were charged a 5% commission for all sales and 5% more for all purchases on these platforms, these same were also developed in many countries and for more than 20 years but without any significant expansion.
PRESENT
UbiZ for users and UbiZ for companies
2019
El mercado nos volvió a sorprender: UbiZ captó inmediatamente la atención de los anunciantes y alcanzó las 100.000 descargas en los markets de Android y Apple.
Más tarde, diseñamos un programa comercial mediante Licencias de marca e incluimos el producto sin costo dentro de los paquetes de anuncios Super AdPack, Ultra AdPack y Pro AdPack de AiYellow.
Hoy, UbiZ se expande y avanza presentando la utilización de la herramienta UbiZ for Business a empresas con valores sin competencia en el mercado, y UbiZ for People, la cual promueve la interacción entre usuarios y empresas mediante sorteos y premios, con acciones que fortalecen la fidelización. Además, a través de sus directores, UbiZ ofrece asesoría completa sobre la utilización de la herramienta.
THE FUTURE
To increase city directors
2020 onwards
Our desire is to participate actively and reach the numbers of users that we have achieved in AiYellow.
In a market increasingly focused on mobile cellular technology, our goal in the short term is to open as many commercial directorships as possible to strengthen the application and disseminate its use. According to our estimates, the number of users should grow exponentially when using the Pro Database System.
Our presence globally
New members are added as City Directors globally every day in the City Director Program.
Get to know them by clicking on the yellow locator that appears in the geographic location of your interest.
Lastest Registered Directors
Laura Cristina Patiño Santos
Yumbo, Colombia
AiYellow
Efigenia Rodriguez Betancourt
Paipa, Colombia
AiYellow
Gladys Mar Escalona Silva
Barquisimeto, Venezuela
GDC YellowPages - Professionals
Paola Andrade
LA, United States
AiYellow
Hector Eduardo Minni
Barquisimeto, Venezuela
GDC YellowPages - Gastronomy
Andre De Bruyn
Uitenhage, South Africa
AiYellow
ISRAEL ENRIQUE ANDRADE GONZALEZ
San Antonio de Los Altos, Venezuela
AiYellow
Edgard Rufasto
Arequipa, Peru
AiYellow
Carlos David Ovelar
Asunción, Paraguay
GDC YellowPages - Education & Training
Alejandra Quintanilla Facundo
Coatzacoalcos, Mexico
AiYellow
Janeth Cañar
Sangolquí, Ecuador
GDC YellowPages - Construction
Evelt Cabrera Lemus
Amatitlán, Guatemala
AiYellow
Sandra Ceron Chaves
Chía, Colombia
GDC YellowPages - Gastronomy
Filomena Nogueira
Porto, Portugal
GDC YellowPages - Hospitality & Tourism
Marlene Menanteau
Puerto Montt, Chile
GDC YellowPages - Gastronomy
Filiberto Morales
Ciudad de México, Mexico
GDC YellowPages - Industries
Milciades Enciso Martinez
Hernandarias, Paraguay
AiYellow
Willian Alberto Rosales Roman
Maracaibo, Venezuela
GDC YellowPages - Health
Alenzandra De Aza
La Romana, Dominican Republic
AiYellow
MOTA ENTERPRISES
Columbia, United States
AiYellow