The Digital World
Today, we are immersed in a digital environment that fosters our connections and allows us to find people, interests, and resources at every second. The number of digital outcasts is decreasing, and meeting online is becoming our everyday scenario.
The relevance of this digital world is constantly growing, and it is playing a fundamental role in our lives:

- Over 80% of consumers explore online what they want to buy before making their purchase.

- Over 50% of smartphone users discover new companies through their phone's search engine.

- Most marketing, sales, and business strategies use digital media as a key resource in their development.
These data show us that many of our potential customers use digital media as part of their daily activities, and it is essential to turn technology into our main ally when it comes to expanding our business to the new digital world.

With this perspective in mind, it is time to ask: What presence does your business have on the Internet?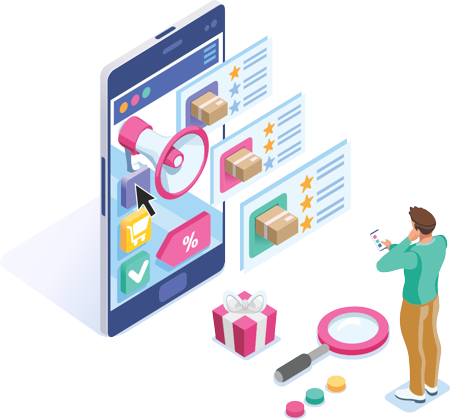 Digital Inclusion 360
It is GDC's campaign to provide companies and businesses with a set of digital products that complement each other. Digital Inclusion 360 enables a comprehensive approach to the commercial, networking, and relationship aspects of your brand, with long-term sustainability.
Through different tools, all focused on technological innovation, you will be able to develop your business model on your own and from any device. A powerful, agile, and simple system that offers you proven results, through:
Presence in digital search engines

Effective communication with customers

Loyalty of your market audience

Resource optimisation

Close and assertive contact

Business motivation and personal development
Our digital products are available separately or as a whole within the VIP package that brings together all of our service platforms into a single advertising package. Powerful and highly convenient, it provides all the necessary tools to meet today's business strategies.

Add technology as an ally in your team and start creating a unique development and productivity experience.
DIGITAL PLATFORMS Global Digital Coop stands out from other models as it integrates different Digital Platforms 100% dedicated to advertising and business marketing.

From a website creation to a mobile application for customer loyalty, all digital solutions can be found here.
AiYellow
Since its creation in 2007, AiYellow has been at the forefront of Internet Yellow Pages as the creator of this globally established concept, and it has been renewing and upgrading its technology to be at the cutting edge of online advertising.

Aiyellow is the worldwide Yellow Pages platform where all types of companies and professionals can promote, through the Internet, any good or service.

This tool has the necessary features to captivate customers by offering a wide range of advertising spaces and specialised directories that facilitate the search direction and the focus on market niches.
Amawebs
Our smart website builder.

Simple steps are enough to get your own online website, customised and optimised for your business purposes.

Amawebs comes to meet the demand for immediate online presence, providing simple and accessible tools for any user to create and manage their page, regardless of technical or programming knowledge. Moreover, it has templates and customised designs to communicate through the image of your site, a quality hosting, and the advantage of being indexed with the best search engines, so that finding you online becomes your reality.

3, 2, 1... and create! Your website is just a click away.
UbiZ
Frequent and targeted communication with your customers, to find them always on your side.

This loyalty tool for all types of companies allows you to:

1. Notify communications to your customers in an agile and practical way through a personal virtual office of content management.
2. Send promotions and notifications to your followers. Through a mobile application, you will be able to get in touch with customers who wish to receive your information and to find other businesses and companies, within your location radius, to establish alliances with or meet their needs.

In addition, as a GDC member, this tool facilitates the use of YTCs as a means of payment.

OrbitCard
The new way to introduce yourself to the world.

It is a digital business card that brings together all your personal and business information in one place and can be shared in just one click.

This tool has arrived to revolutionize business communication, widen your circles of influence, and create new exchanges to enhance your brand.
It allows you to increase exponentially the reach of your business in an attractive, simple and effective way.

.

This is more than a communication channel, a presentation portfolio, a contact button: It is a new commercial exchange experience characterised by being effective, straightforward, simple, and tailored to your needs.

You can customise it, adapt it to the standards of your brand identity, share it any time you want, and what is more, it's environmentally friendly!
MarketCoop
Our Internet eCommerce platform.

It is an e-commerce store that allows you to sell different types of goods and services, new or used, in a secure environment.

On MarketCoop, buying and selling is guaranteed peace of mind: Buyers and sellers connect through the platform, and then they carry out their transactions in person and without intermediaries.

The new classified ads site can be found at GDC.
LuckyCenter
A platform to get luck on your side.

Through LuckyCenter you can captivate your customers by carrying out low-cost draws and offering high-end prizes. The power of cooperativism at its finest allows users of all member stores and companies to participate for incredible prizes, motivating brand loyalty and adherence.

The finishing touch your marketing strategy needs!