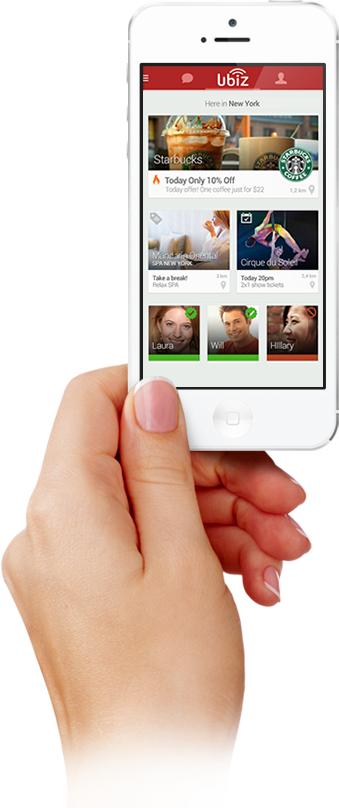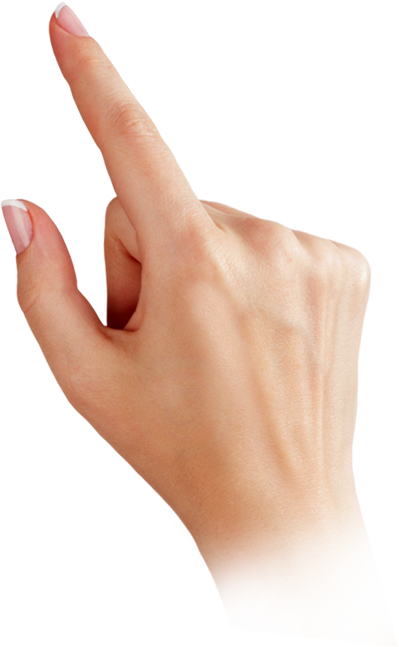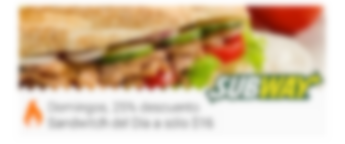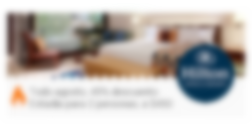 GDC UbiZ allows your customers to connect with their own customers.
GDC UbiZ App provides business owners in all cities worldwide with a powerful and "easy to use" marketing tool allowing them to optimize a perfect digital marketing strategy that drives customers and delivers more profits to their business.
Thousands of merchants around the world have dramatically improved their business, made more loyal customers and increased their profits using the GDC Ubiz App.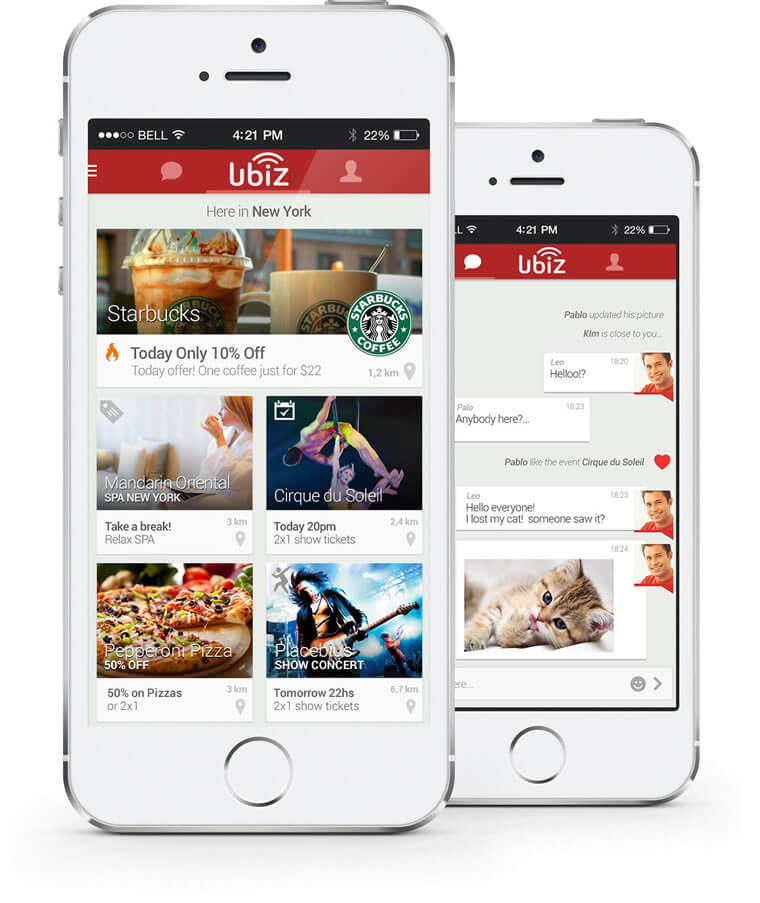 Why do business owners love the Ubiz App?
Raffles and Prizes
Offer their customers prizes and monthly sweepstakes just for using the app.
'Push' Notifications
Deliver special promotions or exclusive product or service offers targeted to their customers instantly.
A geo-location experience
The geo-location system provides business owners with the ability to target customers in their area.
A real community
Their customers can share product testimonials, user experience and photos with their friends.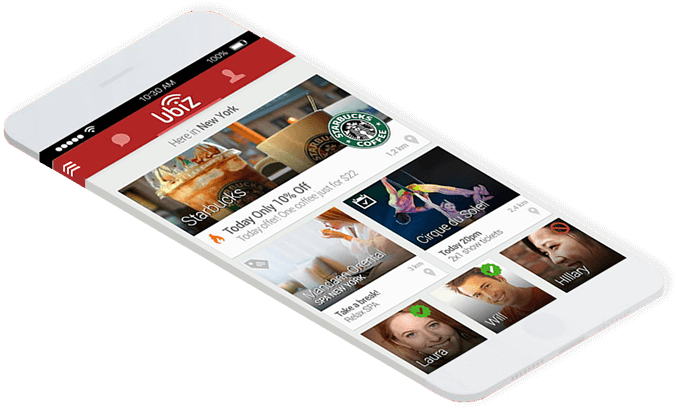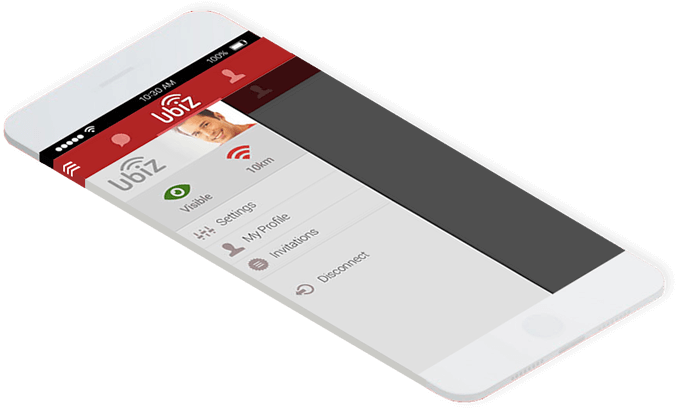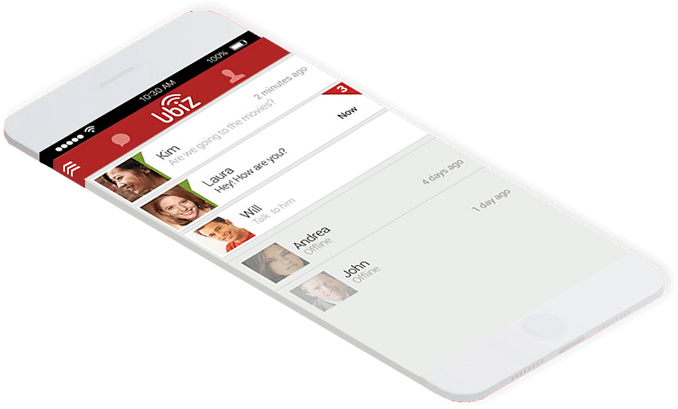 Do you want your business to reach its full potential?
The Ubiz App provides entrepreneurs with the most effective way to retain their current customers, attract new customers and increase profits for their business all in one app.
Dynamic Push Notifications
Businesses can create dynamic real time special product offers and deals based on location, preferences and needs.
Increases Customer Loyalty
Allows direct and interactive communication
between the business owner
and their customers.
Instant Communications
Allows business owners to reach their target market at the right time through push notifications whether the app is running or not.
Be an Expert
Business owners have complete access to electronic tools and video tutorials where they can learn all the features and explore the full potential of this incredible loyalty tool.
Personalize their strategy
Business owners can deliver special promotions to their customers instantly, allowing them to target market specific customers with special product offers or services.
Customer Loyalty
The Ubiz App allows business owners to launch their own customized Loyalty Programs, motivating their customers with sweepstakes, promotions, and other special marketing activities direct to their mobile devices instantly.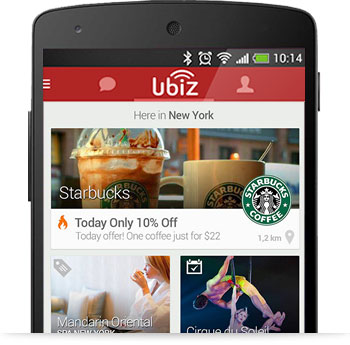 Marketing simple and direct
GDC Ubiz App provides business owners with a commanding platform that gives them the most effective and cost efficient method to promote and target market their products and services to their customers, period.
At the touch of a button, they have a powerful Push Communication tool at their control, that delivers specific promotions to their customers instantly, builds loyalty with their current customers, and attracts new customers to their business, thus increasing their profits.
UBiz specialist developers have designed the GDC Ubiz app for ease of use and includes a complete step by step instruction how business owners can achieve optimal marketing results and increase profits instantly in the palm of their hand.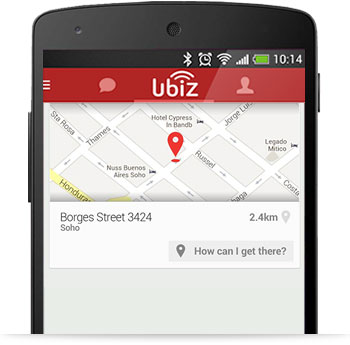 Simple Solutions
Through our professional market research, our team has created a brilliant multi-function business application that provides entrepreneurs and businesss owners with a range of customized packages based on their customers' needs, and allows them to notify their customers of special promotions and deals instantly.
Also, It is important to emphasize that they will always be in control and remain the owner of all their promotional material that they create for their customer loyalty campaigns.
.
Latest registered advertisers
Máquinas De Coser Importadora Men-Man Servicio Técnico
quevedo, ecuador
Export Pieles
santafé de bogotá, colombia
Bar Restaurant Don Marce
manta, ecuador
Mudanzas G&G
quito, ecuador
*Sport Motos Tx* Refacciones Para Motos Cerca De Mi
tequisquiapan, mexico
*El Rincón De Los Artistas*
icod de los vinos, spain
Gastrovida - Dra. Idania Rosales Nápoles
quevedo, ecuador
Jadi Coffee - Cafeteria
quevedo, ecuador
Confecciones E Intimidades "Jessy"
sangolquí, ecuador
Centro Naturista Flor Del Valle
sangolquí, ecuador
J&C Tecnologia Celular
quito, ecuador
*Proyectos En Cristal Y Aluminio* Domos De Cristal Templado
tequisquiapan, mexico
El Reto 65
tequisaquiapan, mexico
La Casa De La Cerradura & Multiservicios
quito, ecuador
Julglok Frutos Secos - Quevedo
quevedo, ecuador
Taller Jader Hurtado
santiago de cali, colombia
Centro Comercial Epicentro
bucaramanga, colombia
Drogueria Ahorra Mas Cabecera
bucaramanga, colombia
Abogados Asociados Consultores Jurídicos Contables
sangolquí, ecuador
Ferretería Maro
santiago de cali, colombia
The evolution of the GDC UbiZ App
Beginning, present and future
BEGINNING
Launching the application
September, 2014
The arrival of smart phones has totally transformed the way business is done globally. The smart phone has created new opportunities for entrepreneurs to promote their business around the globe. How to attract new customers and increase customer and brand loyalty has been a challenge for most entrepreneurs and business owners alike.
So we came up with a solution and the Ubiz App was born. We have created a brilliant, multi-functional business application that focuses on retaining and attracting new customers, delivering powerful customer loyalty programs, builiding businesses and increasing profits for all entrepreneurs around the world.
In September 2014, we started work on creating the UbiZ App. We had the idea, we had the vision, and the technology was available. There is no better technology than instant push notifications and smart advertising campaigns for entrepreneurs to promote, attract, retain, and build customer and brand loyalty for their business.
The main focus of the Ubiz App is to provide entrepreneurs with an effective method to promote their products or services, build their business and increase their profits cost effectively. With push notifications, the entrepreneur is in complete control to perfectly custom design their marketing campaigns and promotions by sending small doses of targeted information directly to their customers and so increase sales and profits.
The market surprised us again: UbiZ immediately caught the attention of business owners and achieved the first 100,000 downloads and is now on the way to millions of downloads on the Android and Apple stores.
Mobiles and Tablets
51.3%
Computers and Notebooks
48.7%
According to StatCounter, Internet usage on mobile devices and tablets surpassed that of desktop PCs worldwide for the first time at the end of 2016. Mobile phones and tablets accounted for 51.3% of the world's preferred Internet devices.
PRESENT
UbiZ for users and UbiZ for business
2019
The market surprised us again: UbiZ immediately caught the attention of business owners and achieved the first 100,000 downloads and is now on the way to millions of downloads on the Android and Apple stores.
Later, we designed a commercial program using Brand Licenses and included the product at no cost within AiYellow's Super AdPack, Ultra AdPack and Pro AdPack ad packages
Today, the UbiZ Application continues to evolve, expand and advance by offering additional features such as the "UbiZ for Business" to companies with no market competition, and UbiZ for People, which promotes interaction between users and businesses through the unique sweepstakes and prizes offered that attracts new customers, strengthens customer loyalty and continues to build businesses worldwide.
Demand for mobile apps has never been higher! According to recent data, nearly half of small businesses are expected to develop their own mobile app by 2022.
The trend of small businesses is to develop their own applications
19

2017

21

2018

27

2019

35

2020

44

2021

48

2022
THE FUTURE
To increase commercial licenses
2020 onwards
Our goal is to deliver an effectual application that provides a useful method for hundreds of millions of entrepreneurs and business owners around the world to build a relationship with their customers, retain their customers, attract new customers, increase profits and expand their business.
In a market increasingly focused on mobile cellular technology, GDC is now introducing the Ubiz Business Application Division through the GDC City Director Program to promote and reveal it's phenomenol effectiveness and true value for businesses in their city.

By establishing Ubiz as one of the new GDC Business Divisions, the number of business users will grow exponentially into millions worldwide, using the WhitePages database and its awards system and expanding businesses and increasing profits globally.
Our presence in the world
Every day new members are added from all over the world as City Directors of the City Director Program.
Meet the members by clicking on the yellow locator that appears in the geographic location that is of interest to you.
Latest registered Directors
Dario Fabian Scoponi
São Paulo, Brazil
GDC YellowPages - Gastronomy
Beatriz Bravo
San Fernando, Argentina
AiYellow
Bertie Amsing
San Francisco, United States
AiYellow
JJose Galvis
Bucaramanga, Colombia
GDC YellowPages - Digital City
Alex Geovanny Buñay Pila
Quito, Ecuador
GDC YellowPages - Veterinary
Jose Luis Jimenez Buenrostro
Ameca, Mexico
AiYellow
Tanakorn Lukwongarcheep
ศรีราชา, Thailand
AiYellow
Maria Elena Giraldo Vargas
Santafé de Bogotá, Colombia
YTC Unit
Jesús Castro Martín
Icod de los Vinos, Spain
AiYellow
Fabian Velasquez
Portoviejo, Ecuador
GDC YellowPages - SMEs
Reydy Robles
Shushufindi, Ecuador
AiYellow
David Espinosa Ovalle
Tunja, Colombia
YTC Unit
Davide Baldoin
Agrigento, Italy
YTC Unit
Janeth Castro Alava
Piñas, Ecuador
AiYellow
MARTA Juncos
Ciudad de Córdoba, Argentina
AiYellow
Anderson Silva
Anápolis, Brazil
YTC Unit
ROXANA MARCILLO SALAZAR
Puerto López, Ecuador
AiYellow
Juan Zuleta
Noord, Aruba
AiYellow
Carlos Godoy
Mazatenango, Guatemala
YTC Unit
ELIANA MONASTERIOS
Tarija, Bolivia
AiYellow