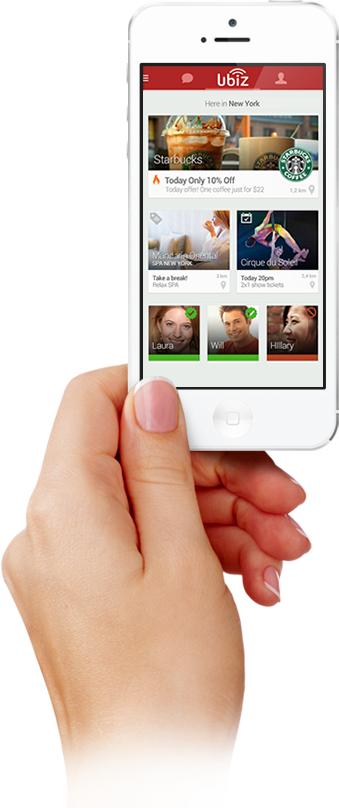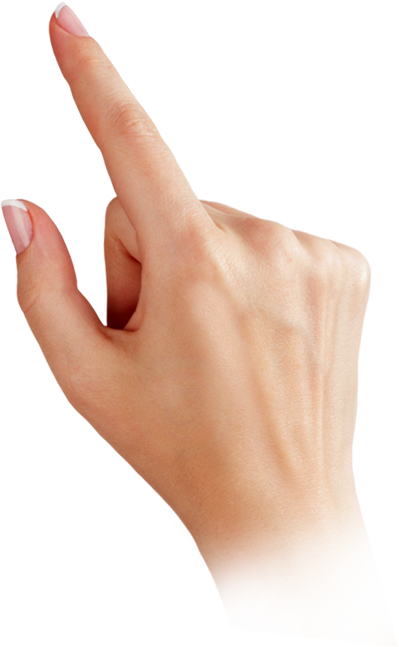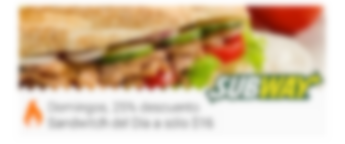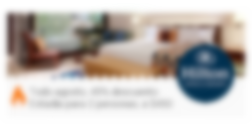 UbiZ, the application that connects you with your favorite places.
More than 1,250,000 companies streamlined their digital marketing strategy with Ubiz.
Enjoy events, discounts, and more every time!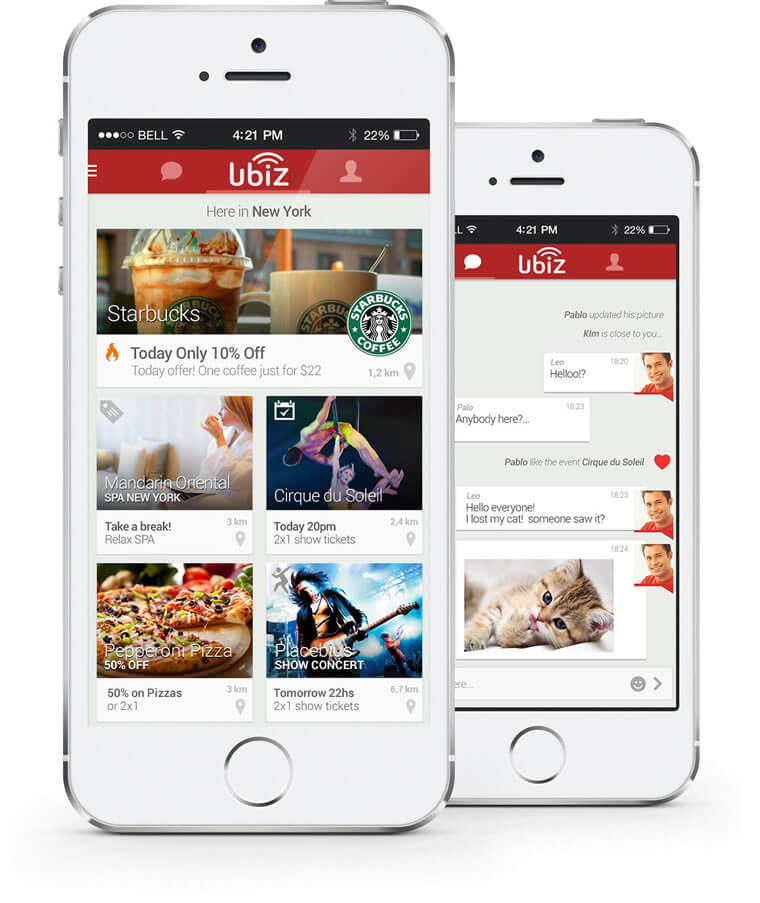 Why do our users love us?
Raffles and Prizes
Because they participate in prizes and monthly sweepstakes just because they use the application.
'Push' Notifications
Because they receive real-time notifications regarding exclusive promotions or benefits from their favorite brands, wherever they are.
A unique experience
Because we developed a great tool that uses the geo-location system to provide a unique experience, adapted to your needs.
A real community
Our users get impressions and referrals from those who have already experienced the App, sharing photos, comments and ideas about what they like.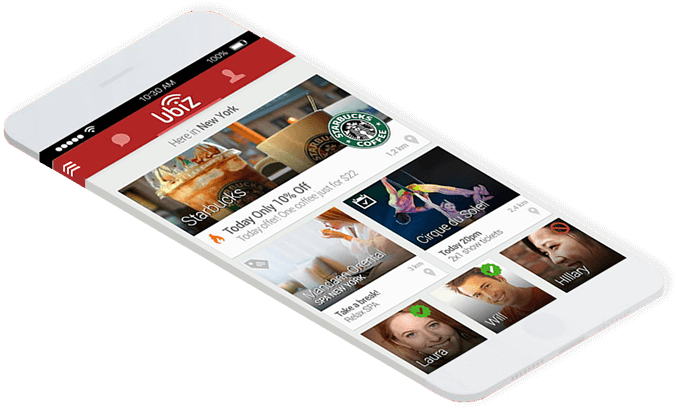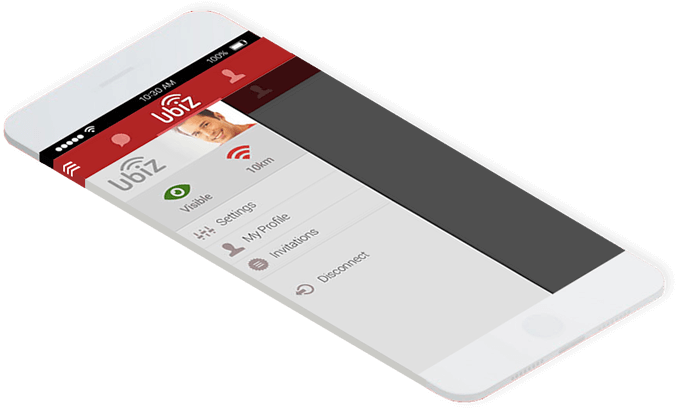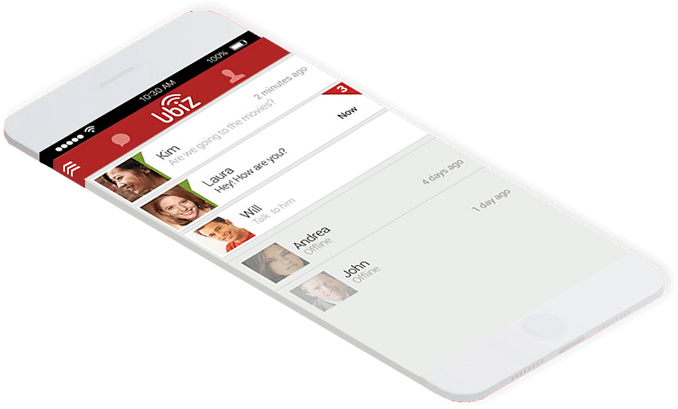 Do you want your business to reach its full potential?
Imagine generating such a strong bond with your customers that your brand becomes part of their lives... seize this opportunity to achieve success today.
Offers a unique experience
Create dynamic messages based on your customers' location, preferences, and needs.
Increases interaction
Promote actions that lead your customers to interact with your business.
Always ready!
Reach your audience at the right time and place through push notifications, whether the application is running or not.
Be an expert
You will have access to electronic books and video tutorials where you can discover all the features and explore the full potential of this incredible loyalty tool.
Personalize your strategy
Custom marketing will allow you to promote specific features of your business.
Loyalty
Through UbiZ, we offer a complete tool to launch your loyalty program, motivating your audience with sweepstakes, promotions and other marketing activities that will communicate them directly on their cell phones.
Últimos anunciantes registrados
Innovando Design Aluminio Vidrio E Inox
quito, ecuador
Memoriaephotography
pretoria, south africa
Publicidad Por Internet Para Empresas Y Negocios
sangolquí, ecuador
Castellino Pizzería Restaurante Y Carnicería
caracas, venezuela
Pastelería Café Gaby
caracas, venezuela
Restaurant Coromoto Bar
caracas, venezuela
Investigadores Privados Ecuador
quito, ecuador
Ta Pronto
loulé, portugal
Banda Bh Show
belo horizonte, brazil
Just Chic
portimão, portugal
Azulejos Y Talaveras
tequisquiapan, mexico
El 15 Taller Mecanico Automotriz
tequisquiapan, mexico
Papelaria Champions Paper
luziânia, brazil
Movimento Soul Bh- Cultura Rua
belo horizonte, brazil
Laboratorio & Optica Jacob 2020, C.A.
caracas, venezuela
Hamburgueria Criativa
loures, portugal
Starkup Soluções Imobiliarias
belo horizonte, brazil
Topsndolls Odivelas
odivelas, portugal
Sushi Trendy
loures, portugal
Taberna Saloia
loures, portugal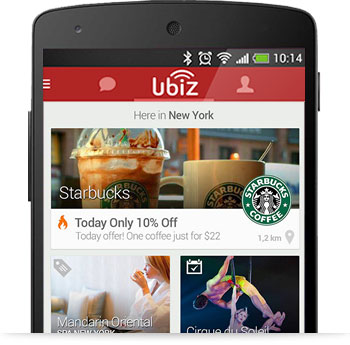 Marketing simple and direct
Our goal is to take the UbiZ tool to its maximum use, offering the best service with a unique platform.
Not only did we design your Push communication tool for UbiZ, but we further target every new development and strive to build loyalty with your current customers and attract new ones.
Although it is an easy tool to use, we have specialists in development and design within Ubiz, which allows us to exploit every aspect of the App, providing you with step by step and optimal results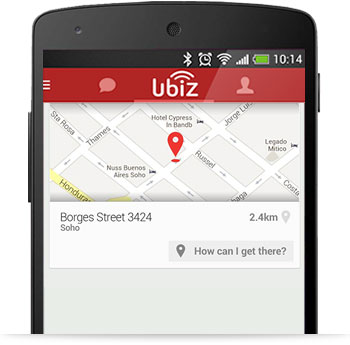 Simple Solutions
We offer a range of customized packages designed by our professionals, based on market research and our customers' needs.
Allowing you to publicize and promote the selected features of your business to the market.
It is important to emphasize that you will always be the owner of your product and all the material that is used for the development of the loyalty campaigns.
The evolution of the UbiZ App
Beginning, present and future
BEGINNING
Launching the application
September, 2007
The Mobile telephone burst into the global market with unprecedented force. Further, customer loyalty was an issue that was of the greatest concern to entrepreneurs in the commercial sphere. That's how we started working on the idea of bringing loyalty to mobile telephones.
September 2016. We started working on creating the UbiZ App, AiYellow's mobile phone loyalty tool. We had a vision: nothing better than the technology of push notifications to retain customer loyalty.
One of the main features of Ubiz is to update the customer regarding promotions, offers or any other relevant information. With push notifications, we could perfectly satisfy that purpose by sending small doses of information directly to their devices.
We had the idea, and the technology was available. We were at the right time to deliver another success.
The market surprised us again: UbiZ immediately caught the attention of advertisers and reached 100,000 downloads on the Android and Apple markets.
Mobiles and Tablets
51.3%
Computers and Notebooks
48.7%
According to StatCounter, Internet usage on mobile devices and tablets surpassed that of desktop PCs worldwide for the first time at the end of 2016. Mobile phones and tablets accounted for 51.3% of the world's preferred Internet devices.
PRESENT
UbiZ and Ubiz for companies
2017
The market surprised us again: UbiZ immediately caught the attention of advertisers and reached 100,000 downloads on the Android and Apple markets.
Later, we designed a commercial program using Brand Licenses and included the product at no cost within AiYellow's Super AdPack, Ultra AdPack and Pro AdPack ad packages
Today, UbiZ expands and advances by, offering the use of the UbiZ for Business tool to companies with no market competition, and UbiZ for People, which promotes interaction between users and companies through sweepstakes and prizes, with actions that strengthen loyalty. Further, through its directors, UbiZ offers complete advice on the use of the tool.
Demand for mobile apps has never been higher! According to recent data, nearly half of small businesses are expected to develop their own mobile app by 2022.
The trend of small businesses is to develop their own applications
19

2017

21

2018

27

2019

35

2020

44

2021

48

2022
THE FUTURE
To increase commercial licenses
2018 to 2021
Our desire is to participate actively and to reach the figures of users that we have achieved in AiYellow.
In a market increasingly focused on mobile cellular technology, our goal in the short term is to open as many commercial licenses as possible to strengthen the application and reveal its value. According to our estimates, the number of users should grow exponentially using the WhitePages database and its awards system.
Our presence in the world
Every day new members are added from all over the world as City Directors of the City Director Program.
Meet the members by clicking on the yellow locator that appears in the geographic location that is of interest to you.
Últimos Directores registrados
Luís Abreu
Portimão, Portugal
GDC Yellow Pages
José Baptista
Mirandela, Portugal
GDC Yellow Pages
Perla Picciotti
Badalona, Spain
GDC Marketplace
Leoncio Lopez
Barcelona, Spain
GDC Exchange
Jorge Franco Gutiérrez
Oaxaca de Juárez, Mexico
GDC Yellow Pages
Maria José Ribeiro
Porto, Portugal
GDC Exchange
Humberto Sousa
Viseu, Portugal
GDC UbiZ
Chanya Puthong
คลองหลวง, Thailand
GDC Yellow Pages
Daniel Matheus
Chiriquí, Panama
GDC Yellow Pages
Anibal Alves
Vila Nova de Gaia, Portugal
GDC Yellow Pages
Rui Torres
Paredes, Portugal
GDC UbiZ
Ascencion Garrido
Puebla de Zaragoza, Mexico
GDC Yellow Pages
Gabriel António Machado Pinto Da Pinha
Agualva, Portugal
GDC Exchange
Esmeralda Marizol Alvarez
Pasto, Colombia
GDC Exchange
Norberto Artemio Felipe Montiel Flores
Los Mochis, Mexico
GDC Yellow Pages
Lanora Carol Rodgers
Benoni, South Africa
GDC Yellow Pages
Júlia Frantz Predabon
Porto Alegre, Brazil
GDC UbiZ
Luz Dary Ospina López
Envigado, Colombia
GDC Marketplace
Vicente De Paul Benites Fuentes
Durán, Ecuador
GDC Yellow Pages
Alexander Aragon G
Santiago de Cali, Colombia
GDC Web Builder