El creador inteligente de sitios web
En sólo simples 3 pasos, nuestros anunciantes tienen la posibilidad de poner en línea su propio sitio web personalizado y optimizado, para que su presencia online sea inmediata.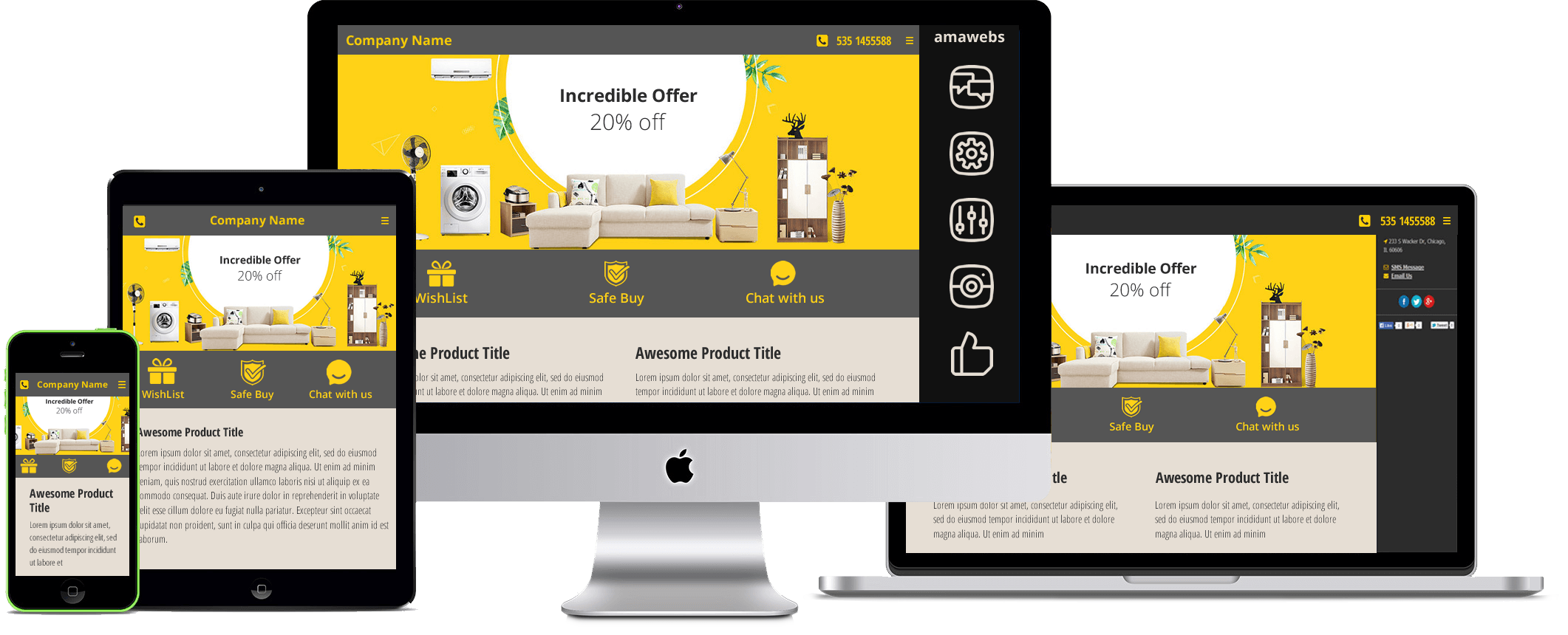 Tu sitio en tus manos
Cuando tienes las herramientas correctas, construir tu sitio debería ser fácil y accesible.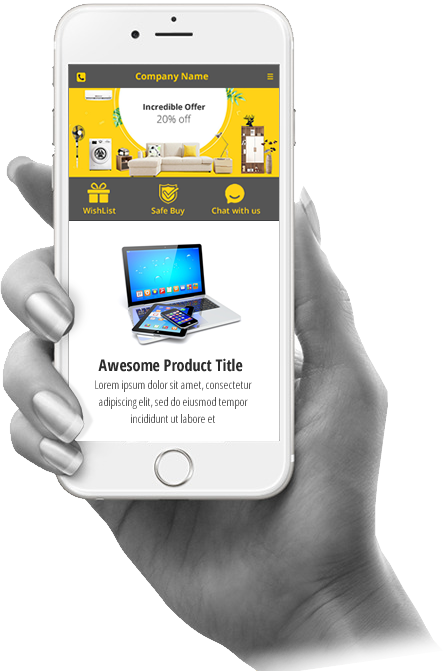 5,580
Sitios desarrollados
219,912
Usuarios de Site Builder
722,513
GB datos transferidos
Por qué elegir Amawebs
Tu propio dominio
Si ya tienes un dominio, puedes redireccionarlo a Amawebs. Pero si aún no lo tienes, te ofrecemos subdominios con el nombre de tu emprsa: www.tuempresa.amawebs.com o tuempresa.amawebs.com
Galería de imagenes
Te ofrecemos una biblioteca virtual única, donde podrás almacenar hasta 5 MB de imágenes optimizadas para mostrarse en cuatro formatos diferentes, lo que te permitirá elegir qué tamaño deseas utilizar.
Alojamiento gratuito
Brindamos servicio de alojamiento anual gratuito y sin restricciones de ancho de banda, por lo que nunca tendrás que pagar a un proveedor externo para alojar tu sitio web.
Diseños versátiles
Ofrecemos cientos de plantillas que cumplen funcional y estéticamente las necesidades de todo tipo de negocios.
SEO
Nuestro software inteligente optimiza automáticamente tu sitio web para que sea indexado por los principales motores de búsqueda.
Sin publicidad no deseada
No colocaremos ningún anuncio no solicitado. El sitio es tuyo y siempre respetaremos eso.
Cómo funciona
Recibe Amawebs gratis con cualquiera de nuestros paquetes de anuncios
Compra un paquete de anuncios
Obtén tu constructor de sitios web con uno de nuestros exclusivos productos:
Configura tu sitio web
Crea tu anuncio en AiYellow.com, y con el mismo usuario y contraseña, podrás acceder a amawebs.com
Añade el contenido
¡Ya puedes disfrutar creando tu propio sitio!
Paraíso Das Joias | Moscavide
oeiras, portugal
Maxicompra Supermercados - Glória Do Ribatejo
oeiras, portugal
Maxicompra Supermercados - Marinhais
oeiras, portugal
Sain South Africa International Network
pretoria, south africa
Everlasting Aluminium And Glass Experts
springs, south africa
Aluminios Labrador Carpintería De Aluminio Los Realejos
los realejos, spain
Superquimicos Cali
santiago de cali, colombia
Fertown | Ferramentas | Oficinas Chave-Na-Mão | Lisboa
loures, portugal
Acog Modulares Creativos
quito, ecuador
Dr. William Otero Olaya Cirujano Plástico
cali, colombia
Confecciones Sharp
quito, ecuador
Taller Nesta Electromecánica La Laguna
san cristóbal de la laguna, spain
Legend Majestic | Nail Art | Manicure E Pedicure | V.N.Gaia
vila nova de gaia, portugal
Legend Majestic | Manicure, Pedicure E Nail Art | Porto
porto, portugal
Paraíso Das Jóias | Viana Do Castelo
viana do castelo, portugal
Maxicompra Supermercados- Alpiarça
alpiarça, portugal
Maxicompra Supermercados
salvaterra de magos, portugal
Imperdecor Cortinas & Domotización
quito, ecuador
Aluwindour Pretoria
pretoria, south africa
Restaurante Ginjal | Cozinha Tradicional Portuguesa | Gaia
vila nova de gaia, portugal
Amawebs, nuestro constructor de websites
Comienzo, presente y futuro
COMIENZO
Lanzamiento de Amawebs
Febrero, 2007
La importancia de estar presente en internet era cada vez más clara.
Nuestros anunciantes temían que la indexación de sus anuncios no fuera suficiente y comenzaron a entender la necesidad de tener un sitio web propio.
Fue ante esta necesidad de nuestros anunciantes que decidimos lanzar una herramienta para posibilitar una exitosa inmersión en el mundo digital: Amawebs, el constructor de sitios web de AiYellow.
PRESENTE
Superamos nuestras expectativas
Año 2010
Con más de 5000 plantillas pre-diseñadas, 300 categorías de actividades, gran capacidad de almacenamiento de datos, fotos, videos y un editor amigable e intuitivo, Amawebs ha puesto en línea casi 100.000 sitios.
50 millones de fotos almacenadas, 12 servidores en línea con backups permanentes y servicio de hospedaje y sub-dominios, son parte de las prestaciones de Amawebs.
Nuestro equipo comercial conoce la necesidad de los anunciantes, y Amawebs es sin duda una de las más herramientas más útiles que ofrecemos.
FUTURO
Alanzar los 100 millones de sitios
2018 a 2021
Pensar en una pequeña o mediana empresa que no tenga un sitio web en línea, es imaginar un negocio sin futuro. Por ello, ofrecemos la posibilidad de que todas los rubros puedan participar del market-place de AiYellow, vinculando su anuncio a su sitio web.
Nuestro principal objetivo es ayudar a los "excluidos digitales", ofreciendo tarifas sin competencia que, junto a demás ventajas, brinden igualdad de posibilidades a todas las comunidades que buscan triunfar en el mercado online.
Dichas campañas serán implementadas solo en áreas donde existan licencias de marca AiYellow.
Our presence in the world
Every day new members are added from all over the world as City Directors of the City Director Program.
Meet the members by clicking on the yellow locator that appears in the geographic location that is of interest to you.
Últimos Directores registrados
Mercedes Amparo Rosales Jimenez
Pasto, Colombia
AiYellow
Eric Solis
San José, Costa Rica
AiYellow
Ramona Concepción Fretes
Luque, Paraguay
AiYellow
Maria Elena Giraldo Vargas
Lima, Peru
GDC YellowPages - Veterinary
Tania Pineda
Ciudad de Panamá, Panama
GDC YellowPages - Professionals
Rosa Vicenta Reyes Loor
Valencia, Ecuador
AiYellow
Ramiro Alexander Santamaría
San Salvador, El Salvador
AiYellow
Edson Eduardo Reyes Marambio
Los Ángeles, Chile
GDC YellowPages - Professionals
Bryan Estrella
Chillán, Chile
AiYellow
Johan Becerra
Cúcuta, Colombia
GDC YellowPages - Professionals
Olga Santiago Rios
San Cristóbal, Venezuela
GDC YellowPages - Health
Luis Andres Orozco Calderon
Tunja, Colombia
GDC YellowPages - Professionals
Alejandro Alban
Quito, Ecuador
GDC YellowPages - Gastronomy
Wellison Dileve
Ipatinga, Brazil
YTC Unit
Rosana Matute Franka
Pampatar, Venezuela
AiYellow
Luis Jorge Neisa Riveros
Soacha, Colombia
GDC YellowPages - Home
Paula Cárdenas
Guastatoya, Guatemala
GDC YellowPages - Professionals
Eva Lourdes Herrera Cedeño
La Maná, Ecuador
AiYellow
Esmelinda Rodríguez
San Francisco de Macorís, Dominican Republic
AiYellow
Amarelas Moz
Luanda, Angola
AiYellow